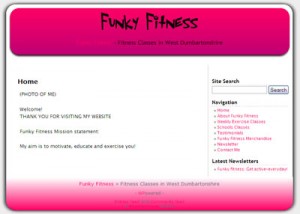 Funky Fitness is a brochure site for a Helensburgh based fitness instructor. It contains information on classes, newsletters, contact information and merchandise.
The design was chosen by the client to match the site design for Your Friday Girl, but has been customised to the client's colour scheme.
Services Provided:
Initial Consultation
Domain research and advice
Hosting
Design Customisation
Email Setup
Content population.
Ongoing content updates will be handled by the client or by Your Friday Girl
Visit Funky Fitness