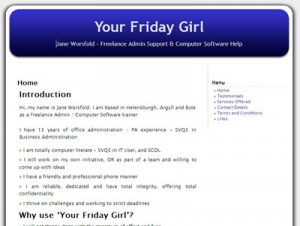 Jane Worsfold is "Your Friday Girl", offering Admin support and computer training in the Helensburgh area. The site is deliberately simple  and easy to update but is useful as a reference for people who have seen print adverts and who are looking for details of what services are offered.
Services provided:
Advice on getting control of a previous domain
Website hosting
Email Setup
Site setup
Content population
Jane maintains the website herself and also offers website updating as one of her services.
Visit Your Friday Girl